Budapest, the vibrant capital city of Hungary, has become a must-visit destination for travelers from around the world. From its magnificent architecture to its rich cultural heritage, Budapest offers a delightful blend of history and modernity. Among the various activities that captivate visitors, a Danube boat cruise stands out as a popular choice. Let's delve into the reasons behind the widespread appeal of Danube boat cruises in Budapest.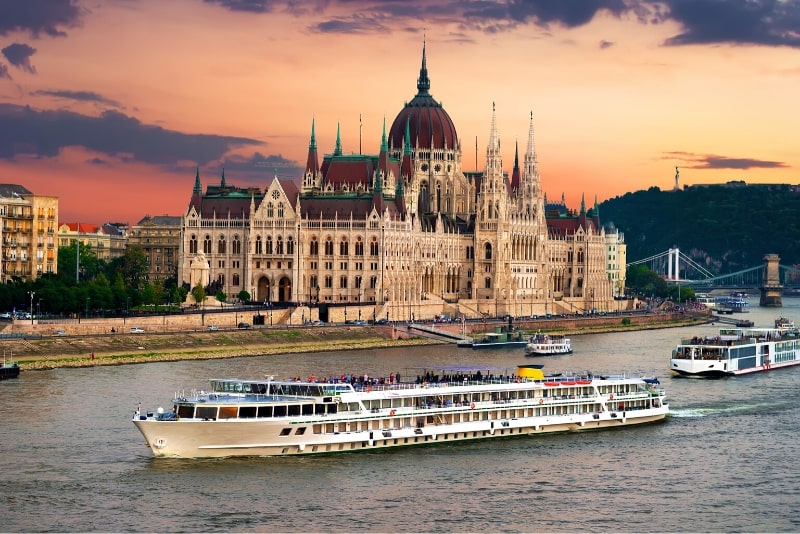 Embarking on a Danube boat cruise allows travelers to witness the breathtaking panorama of Budapest's iconic landmarks from a unique perspective. As the mighty Danube River meanders through the heart of the city, cruisers can feast their eyes on UNESCO World Heritage sites such as the majestic Hungarian Parliament Building, the enchanting Castle Hill with Buda Castle, and the impressive Chain Bridge. These architectural gems, illuminated by the warm glow of the setting sun or the sparkling city lights at night, create an unforgettable visual experience.
Unmatched Romantic Ambiance:
Budapest's Danube River exudes a romantic ambiance that captivates couples and creates lasting memories. As the boat glides along the gentle waves, passengers can enjoy the enchanting atmosphere and cherish moments of tranquility and togetherness. The combination of the city's illuminated skyline, the gentle breeze, and the rhythmic flow of the river adds a touch of magic, making it a perfect setting for a romantic escape or even a marriage proposal.
Historical and Cultural Immersion
Budapest's Danube boat cruises offer an immersive experience, allowing visitors to delve into the city's rich history and culture. Along the riverbanks, travelers can catch a glimpse of landmarks that showcase the city's vibrant past, including the Fisherman's Bastion, Matthias Church, and Gellért Hill. Knowledgeable guides on the boat provide informative commentary, sharing fascinating stories and historical facts, deepening the understanding and appreciation of Budapest's heritage.
Dining and Entertainment
Danube boat cruises often feature delectable dining options, allowing passengers to savor Hungarian cuisine while enjoying the stunning views. From traditional dishes like goulash and paprikash to mouthwatering desserts such as kürtőskalács (chimney cake), the culinary delights tantalize the taste buds and showcase Hungary's gastronomic heritage. Some cruises also offer live music performances, further enhancing the overall experience and creating an enjoyable evening of entertainment.
Flexibility and Convenience
With a wide range of cruise options available, tourists can choose the duration, time of day, and theme that best suits their preferences. Whether it's a short daytime excursion or a romantic candlelit dinner cruise, there's something for everyone. Additionally, the central location of Budapest's Danube River allows easy access to the boats, making it a convenient activity for travelers staying in the city center.
A Danube boat cruise in Budapest offers an unforgettable way to experience the city's beauty, history, and culture, even it's a family Holiday or a Stag Do Party in Budapest. The panoramic views, romantic ambiance, and immersive journey through Budapest's iconic landmarks create a remarkable experience for tourists. Whether you're a history enthusiast, a food lover, or a couple seeking a romantic escape, a Danube boat cruise is a must-do activity that promises to leave a lasting impression of Budapest's charm and allure. So, embark on a magical journey along the Danube and discover the enchanting spirit of Budapest.