When the summer heat is in full swing, there's no better way to beat it than by diving into the exhilarating world of pool parties. Across the United States, you'll find an array of epic pool parties that are sure to make a splash. In this article, we'll explore five of the top pool parties in the country, where you can soak up the sun, dance to electrifying beats, and create unforgettable memories.
Rehab Beach Club - Las Vegas, Nevada
Located at the iconic Hard Rock Hotel & Casino, Rehab Beach Club in Las Vegas is a must-visit destination for pool party enthusiasts. This legendary venue features multiple pools, luxurious cabanas, and world-class DJs spinning the hottest tracks. The energetic atmosphere, combined with a celebrity-packed guest list, makes Rehab Beach Club an unforgettable party experience.
Drai's Beachclub - Las Vegas, Nevada
Another Las Vegas gem, Drai's Beachclub, perched atop The Cromwell hotel, offers a rooftop oasis with stunning views of the city's skyline. With a massive pool, plush daybeds, and VIP cabanas, Drai's creates an unparalleled pool party ambiance. Prepare to dance the day away to the beats of top-tier DJs and indulge in signature cocktails, making this pool party an absolute highlight.
Nikki Beach - Miami, Florida
For a taste of the glamorous Miami scene, head to Nikki Beach, a premier beach club and pool party destination. Located in the heart of South Beach, Nikki Beach is renowned for its chic atmosphere, white sand beach, and turquoise pools. Prepare to sip on refreshing cocktails while enjoying live music performances and the vibrant energy that permeates this iconic pool party hotspot.
Encore Beach Club - Las Vegas, Nevada
Las Vegas once again proves its dominance in the pool party scene with the Encore Beach Club. Situated at the luxurious Encore resort, this sprawling pool complex boasts a lively atmosphere, world-class DJs, and a massive pool surrounded by lush palm trees. VIP cabanas and bungalows offer a heightened experience, complete with personal hosts and exclusive amenities, ensuring an unforgettable pool party experience.
The Saguaro - Palm Springs, California
Nestled in the desert oasis of Palm Springs, The Saguaro hotel is home to one of California's most vibrant pool party scenes. Known for its colorful aesthetic and retro vibes, The Saguaro hosts pool parties that are as lively as they are stylish. Enjoy poolside DJs, pool floats, and a diverse crowd in this desert paradise, all while soaking up the sun and taking in the breathtaking mountain views.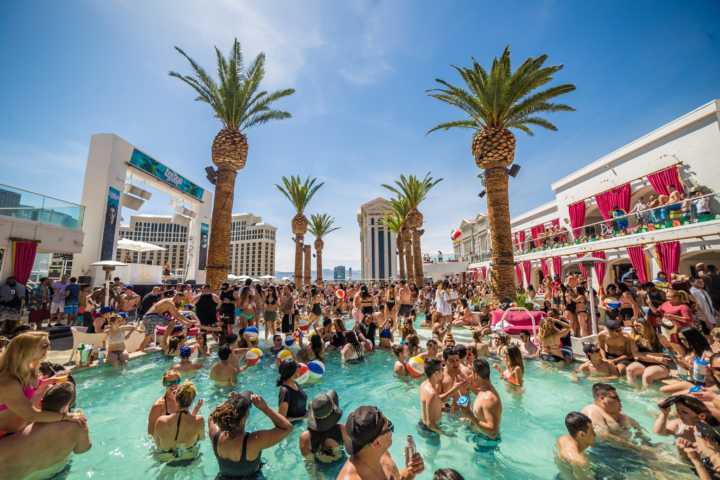 Additionally, for those seeking to mix up their party experience, many of these pool party destinations are also conveniently located near bustling city centers, offering the perfect opportunity to combine a thrilling pool party with an exciting pub crawl through the vibrant nightlife of Las Vegas, Miami, or Palm Springs.