Bling Bling Barcelona stands out as an iconic club destination.
When it comes to experiencing the full glitz of Bling Bling, strategic planning is the key.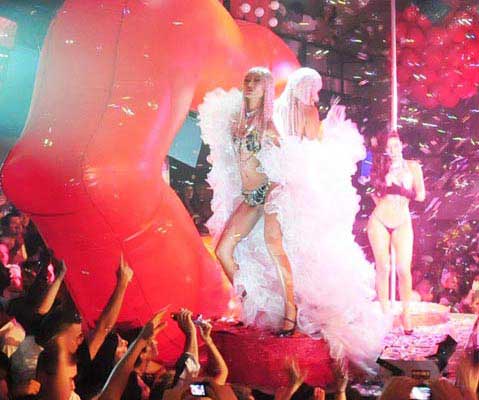 Bling Bling Barcelona Table Map
Bling Bling Barcelona is not just a nightclub; it's an opulent realm where luxury and entertainment converge. With its sleek, sophisticated design and a guest list that reads like a who's who of the city's elite, stepping into Bling Bling is an experience in itself. The beats are infectious, the atmosphere is electric, and the energy is palpable. It's where Barcelona's finest come to see and be seen.
Now, picture this: you arrive at Bling Bling Barcelona, the music is pulsating, the dance floor is alive, and you're ready for a night to remember. However, without a strategic plan, you might find yourself struggling to secure a good spot amidst the bustling crowd. This is where the Table Map comes to your rescue.
Strategic Positioning: Bling Bling Barcelona's Table Map allows you to choose a table strategically positioned to your liking. Whether you prefer proximity to the DJ booth, the dance floor, or a more secluded VIP area, the map helps you decide.
Avoiding Disappointment: This iconic venue is often packed and frequently sells out. Exploring the Table Map in advance allows you to secure your spot and avoid disappointment at the door.
Bottle Service: Booking a table not only guarantees you a prime location but also opens doors to bottle service. You and your friends can savor premium spirits without the hassle of the bar crowd.
VIP Treatment: With a table reservation, you'll enjoy VIP treatment, priority seating, and dedicated service, ensuring your night is smooth, enjoyable, and luxurious. Choose the table and table price that best suits your budget and needs and get ready to experience a one-of-a-kind evening and party.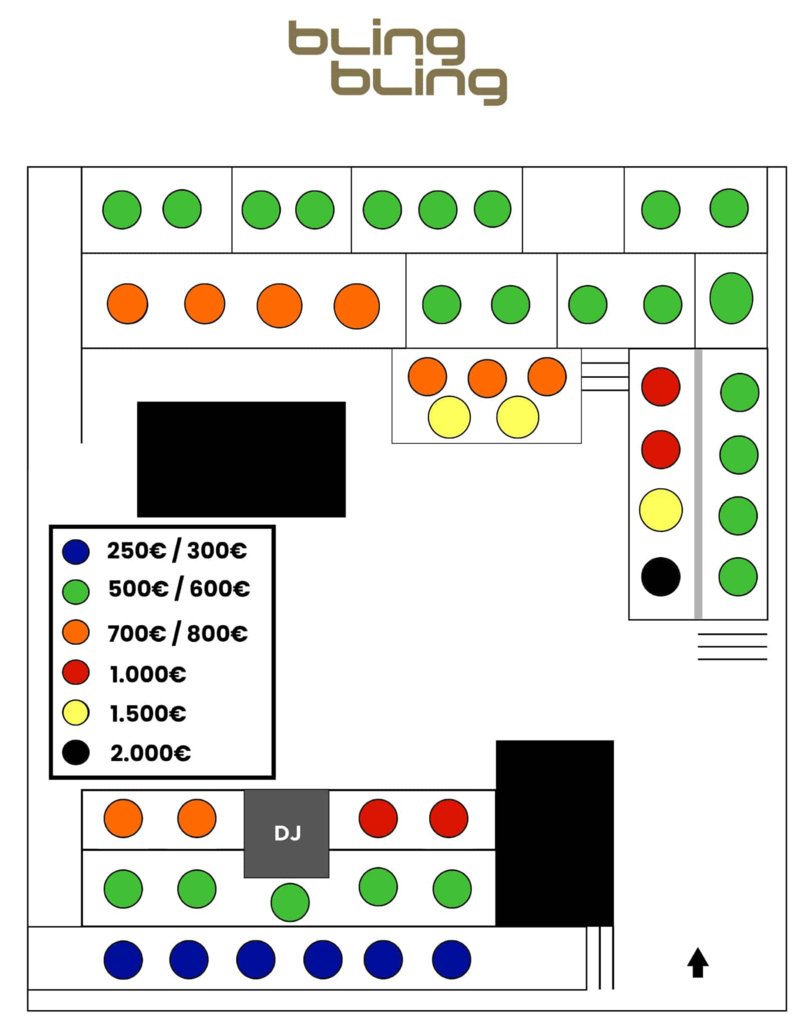 To make the most of your night at Club Bling Bling Barcelona, we recommend these steps:
Explore the Table Map: Visit our website and explore the Table Map to pick the perfect table for your group.
Book in Advance: Secure your table in advance to avoid last-minute disappointments. Booking is almost always the surest way to guarantee entry and the best experience.
Plan Your Bottle Choices: Examine the Bling Bling bottle menu in advance. Decide on the premium spirits you'd like to savor with your friends, ensuring you get the best out of the Bling Bling bottle service.
In conclusion, Bling Bling Barcelona isn't just a nightclub; it's an experience waiting to be crafted. The Table Map is your secret to an evening of style, comfort, and unforgettable memories. Planning your night in advance ensures you're not just a spectator but a VIP guest in this glittering realm of nightlife.
So, whether you're celebrating a special occasion or simply seeking an extraordinary night out, let Nightclub Bling Bling Barcelona's Table Map guide you to a night of sophistication, excitement, and indulgence in the heart of Barcelona's nightlife scene. Your glamorous adventure awaits!

Vip Table's packs

We provide VIP services and packages so you can experience the special night out that you wish!

Easy booking

We provide VIP area maps so you can choose your seating and the minimum spend. Everything is a click away!

Happy to help!

Through email, call or WhatsApp, we are always at your service. Do not hesitate to contact our 24/7 concierge service.

Luxury Services

Cars, boats, villas, private jets, etc... All you have to do is ask. We make sure that your Vip Experience is fulfilled!
Do you want to know more about Vip Tables at Barcelona?